About Jeff Schmidt
Jeff Schmidt is a licensed realtor in Los Cabos who works with Americans, Canadians and Mexican nationals. He helps buyers and sellers through every stage of the transaction process. If you are interested in buying or selling a home in Cabo San Lucas, San José del Cabo, or any of the surrounding areas, contact Jeff today.
Three Reasons to Choose Jeff As Your Realtor
1. Experience
Jeff was a licensed real estate agent in California, Nevada, and Minnesota; he gained five years of experience when he lived in the states. Since 2013, Jeff has been working as a real estate agent in Cabo.
2. Personally Bought and Sold in Cabo
Jeff has personally been through the home buying, selling, and building process in Cabo. An agent that has been through this experience has a better perspective of what it is like to buy or sell real estate in Mexico.
3. Guidance Through Every Stage
Jeff is committed to taking the fear out of the real estate process in Mexico. He educates clients on all aspects of the transaction, and works to make the experience as smooth and enjoyable as possible for clients.

Education
Jeff was raised in Blaine, Minnesota, which is about 15 miles north of Minneapolis. In high school, he was involved in athletics, including track and field and basketball. After high school, he accepted a track and field scholarship from the University of St. Thomas (UST).
Jeff attended UST for two years, and competed in long jump, high jump, and triple jump track and field events. He then transferred to St. Cloud State, where he maintained a track and field scholarship and earned a bachelor's degree in health education.
After graduating from college, Jeff moved to San Diego and then to Los Angeles, working in the education field. He decided to further his education, earning his interdisciplinary master's degree in health sciences and education at the University of Nevada, Las Vegas (UNLV).
Real Estate Experience in the United States
During the five years that Jeff spent in Las Vegas, he started doing home loans and real estate. He became a licensed real estate agent in three states: California, Nevada, and Minnesota. After about five years in Vegas, the market slowed due to the Great Recession, and Jeff decided to return to teaching. He spent the next five years teaching and coaching in California, settling in the Bay Area until he and his wife began to plan their move to Cabo.
Moving to Cabo
After getting married, Jeff and his wife began to seriously discuss the idea of moving to Cabo. They decided to sell their home in California, purchase a home in Cabo, drive down the Baja peninsula, and move to Cabo full time. Shortly after arriving in Cabo, they got a RZR to help them explore the local area and beaches.
Real Estate Experience in Cabo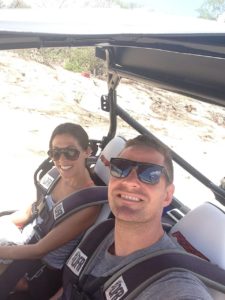 Jeff has been living and selling real estate in Cabo San Lucas since 2013. As a real estate agent, he is as upfront and informative as possible with clients; he is happy to discuss HOA fees, closing costs, and any other expenses that go into buying a home so there are no surprises down the road. He can also answer any questions and concerns that you may have regarding fideicomisos, property taxes, or any other aspect of the real estate transaction.
Buying or Selling a Home in Mexico
Jeff also understands how the lack of trusted information and slow pace of life in Mexico can be frustrating to home buyers and sellers. While he can't control every step of the process, Jeff prides himself on being available to you at all times. When it comes to answering your questions, submitting offers, responding to accepted or counter offers, or following up during the closing process, you can and should expect a timely response.
What Jeff Does for Fun
Jeff is a big sports fan. He follows football, basketball, soccer, golf, tennis, and baseball. As a former resident of Minnesota, Las Vegas, and California, he tends to root for teams from these areas.
Jeff also enjoys exploring Baja Sur's beaches with his wife and daughter. They often visit the local beaches in Cabo, and they like to venture out to the beaches in the East Cape, Los Barriles, La Paz, and Cerritos. They also like to attend the local art events in San José del Cabo and Cabo San Lucas.
Living in Cabo
Having lived in Cabo for almost a decade, Jeff has gained the experience and insight you need to buy or sell a home in Cabo. He can also provide advice on what it is like to live in Cabo. Want to know what internet, TV, and cell phone providers are available? Do you need a recommendation for a trusted property manager, builder, or handyman? Want to know which schools are the best in your area? Jeff can answer these questions and so many more.
Contact Jeff Today
Jeff looks forward to meeting you and introducing you to the Los Cabos area. Contact Jeff Schmidt today to schedule a time to look at a home or condo, virtually or in person.
(408) 607-8349 (U.S.)
(624) 165-9553 (Mex)
jeff@cabobeachrealty.com