High-End, Luxury Real Estate in Cabo
Montage, Chileno Bay, El Dorado, and Maravilla are among the most exclusive high-end communities in all of Cabo San Lucas. Properties at these developments are home to families and individuals who value the comforts of fine living and appreciate the natural splendors of Los Cabos.
These five-star communities offer gorgeous views of the Sea of Cortez, easy access to the city, and a mix of invigorating and intimate excursions in the surrounding environs. At these elite developments, you can truly experience some of the best that Baja has to offer.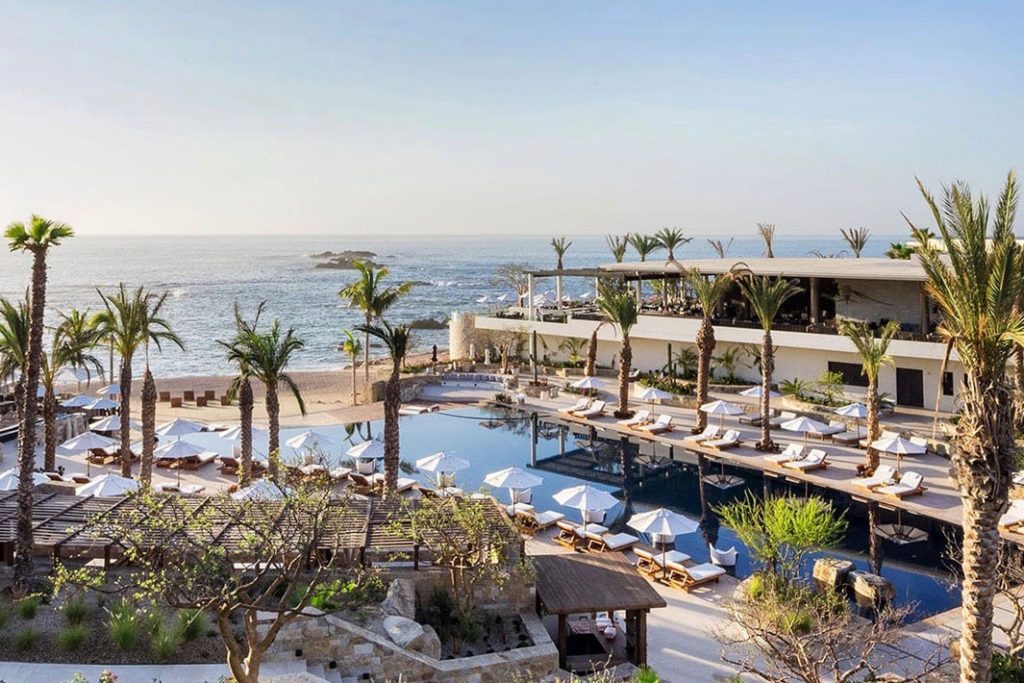 Chileno Bay
Experience new heights of luxury at Chileno Bay, an Auberge Resorts Collection community. Award-winning architectural firms Glazier Le Architects and Girvin Associates immerse residents in Los Cabos, using native stone and wood as well as handsome organic color schemes.
The eco-friendly residences overlook gentle Chileno Bay, one of the calmest beaches for swimming in the area. Lots at Chileno Bay are available to build your own home, as well as three-bedroom villas starting at 2,750 square feet and four-bedroom villas starting at 3,100 square feet.
Chileno Bay Amenities
Chileno Bay Club – Residents enjoy exclusive access to the Chileno Bay Club, 18-holes of championship-caliber golf designed by Tom Fazio. The members-only course and state-of-the-art practice facility offer breathtaking views of the Sea of Cortez and the Sierra de la Laguna mountains.
The Auberge Spa – Taking a cue from the architecture, the Auberge Spa rejuvenates guests combining traditional Baja healing methods with a modern spin. Soothe your mind with deep massage, hydrotherapy pools, and salt saunas, and strengthen your body with the latest equipment at the nearby fitness center.
Zero-Edge Pool – The iconic zero-edge pool is the reflective heart of the community. Its three flowing tiers sprawl out toward Chileno Bay and extend into the sky. Unwind poolside in a shaded private cabana, or lay back and bask in one of the chaise lounges.
Fine Local Cuisine – Comal, Chileno Bay's signature restaurant, is rooted in the culinary history of Mexico yet infused with a spirit of innovation. Picked by USA Today as the best restaurant in Los Cabos, Comal offers sumptuous Latin-American fare, fresh ceviche and crudo, and immaculate seaside views.
Beachside Bar – If hunger strikes between the pool and the beach, residents can stop by TnT (Tacos and Tequila). Serving authentic tacos prepared to order as well as delectable spirits and signature cocktails, TnT satisfies cravings when you're in between adventures or winding down for the day.
H20 Cave – The H20 Cave waits at the azure waterfront, ready for your aquatic excursions into the Sea of Cortez. This sports and equipment center is an ideal launching pad for residents who wish to kayak, paddleboard, or snorkel in the gentle waters of the protected cove.
Kids' Club – Pescaditos was voted Bajas's best supervised kids programming in 2020 by InMexico Magazine. Cheery indoor and outdoor spaces are designed to engage and inspire children ages 4 to 11. Kids can craft piñatas, express themselves in the painting station, or curl up in a reading nook.
Personal Services – The staff of Chileno Bay are attentive to residential requests, recreational excursions, or telecommuting and local business needs. Residents can rely on the dedicated concierge and housekeeping team, use personal storage spaces, access the clubhouse, and inquire about other unique services.
Montage
A Forbes Five-Star and AAA Five-Diamond resort, Montage provides sophisticated living amid the sun and comfort of Cabo San Lucas. Montage overlooks Santa Maria Bay, one of the best beaches in the area. Each residence offers magnificent beachfront views, and spacious indoor-outdoor living.
Montage offers residences ideal for households of different sizes looking to get away or settle in. Two-bedroom residences range from 4,103 square feet to 7,103 square feet, and three-bedroom residences range from 4,876 square feet to 7,839 square feet.
Montage Amenities
Twin Dolphin Club – Spanning over 1,100 acres, the Twin Dolphin Club boasts some of the finest golf in Los Cabos. In addition to the Fred Couples Signature 18-hole course, you can unwind at the clubhouse or partake in stunning hikes, mountain biking, and other outdoor activities.
Dos Arroyos – Twin Dolphin Club is large enough to have its own secluded luxury campsite, allowing visitors to rough it in style as they enjoy the wonders of Baja. The glamping experience includes a personal attendant, tents, fire pits, and screened-in cabins.
Santa Maria Bay Beach – Santa Maria Bay Beach is an awe-inspiring destination. The semi-secluded, horseshoe-shaped beach is a protected marine sanctuary. Santa Maria Bay Beach is an ideal spot for swimming, snorkeling, sunbathing, and tranquil strolls along the soft and inviting shoreline.
Yachting – Swimming and sightseeing aren't the only ways to enjoy the Sea of Cortez. You can also cruise the waters in a 56-foot VanDutch motor yacht. The vessel holds six passengers, and comes with a spread of appetizers and beverages to add merriment to your voyage.
Elegant Spa – Spa Montage is a 40,000 square foot retreat that will revive your body and soul. You can luxuriate in the 25-meter, adults-only lap pool while taking in the surroundings, work through stress at the recreation center, or partake in personalized wellness programs.
Gourmet Dining – Send your palate around the world without straying far from Montage. Enjoy casual oceanfront fare at Marea, al fresco lunches at Twin Dolphin Club, an upscale dinner at Mezcal, fine Thai cuisine at Talay, or have a personal chef prepare a meal just for you.
Ample Recreation – If golf, glamping, and these other amenities aren't enough, you can make your own adventure. Enjoy kayaking, paddle boarding, swimming alongside dolphins and whale sharks, chartered fishing trips, horseback riding, camel rides, ATVs, and much more.
Curated Activities for Kids – Children at Montage have just as much to enjoy as adults thanks to Paintbox. Ideal for kids ages 5-12, Paintbox features planned indoor and outdoor activities that will inspire a child's curiosity and imagination, keeping them engaged throughout the day.
El Dorado
El Dorado spans more than 520 secluded acres of the breezy, sun-kissed Golden Corridor. These homes have magnificent ocean and desert views, and are not far from the culture and nightlife of Cabo San Lucas and San Jose del Cabo.
El Dorado residences include two, four, and six-bedroom casitas starting at 1,600 square feet; three, four, and five-bedroom villas starting at 2,453 square feet; luxury homes starting at 5,153 square feet; and beachside lots starting at .22 acres where you can construct your own jewel by the sea.
El Dorado Amenities
El Dorado Golf – Designed by Jack Nicklaus, El Dorado is home to one of the premiere golf courses in Cabo. The PGA legend sculpted the course to complement the existing seaside landscape. Prepare for a masterful 18 holes amid some of the most heart-stopping vistas around.
Exclusive Park and Courts – El Dorado has just what you need to keep active under the sun. The Park features its own field for baseball and soccer, a batting cage, tennis courts, pickleball courts, a basketball court, a sand volleyball court, a bowling alley, and a comfort station.
Yachting – At El Dorado, you have exclusive use of El Discovery, a custom-designed 96-foot motor yacht. El Discovery holds up to 30 passengers, which is ideal for parties and group getaways. Enjoy sunsets on the sea, whale watching, and journeys up the coast to La Paz.
Haute Cuisine – The exclusive El Dorado Beach Club offers numerous options for luxury dining. Enjoy local gourmet cuisine and custom meals made to order out on the beach, on a handsome stone patio, in a cozy indoor space, or in a rustic yet chic private dining room.
Day Spa – Enliven your spirit with luxury spa services. The spa staff brings years of international experience that make each spa visit both relaxing and rewarding. Enjoy a deep tissue massage or renewing skin care treatments such as cleansing facials and marine exfoliation.
Fitness Center – Energize your body at the state-of-the-art fitness center stocked with everything you need for strength training and cardio. No matter your exercise goals, you can choose to workout on your own, with a class of supportive and likeminded people, or with a dedicated trainer.
Private Movie Theater – Rather than stream something at home, why not plan an intimate evening at the movies with proper projection and immersive sound. The private screening room accommodates 12 people, with comfortable leather seats as well as inviting bean bag-style chairs for any additional guests.
Outdoor Activities for All Ages – Children and teens have plenty to do at El Dorado. The Park has its own playground and splash park, as well as a supervised play area. The Junior Outdoor Pursuits program is ideal for youngsters interested in hiking, surfing, go-carting, and repelling.
Maravilla
Maravilla rests along the waters of Las Viudas Beach. This Blue Flag-certified swimmable beach is a destination for those who want to connect with the soul of Los Cabos. Committed to sustainability, Maravilla is using solar panels and Tesla technology in an effort to bring the entire community off the grid.
Oceanfront lots are still available to build your dream house. Maravilla also offers three, four, and five-bedroom villas starting at 4,277 square feet; two-story townhomes with four or five bedrooms starting at 8,218 square feet; and spacious single-family homes.
Maravilla Amenities
Twin Dolphin Club – Maravilla residents can enjoy the 1,100 acres of splendor at Twin Dolphin Club. In addition to the Fred Couples golf course, the vast stretch of land boasts scenic hiking and biking, a dedicated paintball area, and glamping under the desert stars at Dos Arroyos campsite.
Maravilla Pools – Maravilla has separate adults-only and family pools, allowing residents to curate their experience in the water or while lounging poolside. The pools themselves offer exemplary views of the sea and colorful Baja skies, the views accentuated by the stonework and cacti implemented into the design.
Exquisite Dining – Ecco provides upscale American, Mexican, and French cuisine by the Sea of Cortez. The Sushi Lounge boasts fresh and authentic Japanese fare. The cozy gourmet bistro El Mercado can sate your hunger, and Papalote is perfect for comfort food and drinks by the family pool.
Culinary Experiences – Maravilla indulges the palates of curious epicureans. Enjoy a dinner inside of Ecco's kitchen, where chefs provide a behind-the-scenes glimpse of culinary artistry. Agave tastings provide curated menus by Distintivo T-certified tequila masters, in addition to a sophisticated list of wines and sakes.
Recreation by the Sea – The alluring waters of Las Viudas Beach are ideal for swimming, snorkeling among the coral beds, and other serene activities along the quiet sands. Consider guided yoga with a resplendent ocean backdrop, or fishing along the shoreline.
The Park – The Park encourages sports and recreation for all ages. Enjoy games of basketball, frisbee golf, lacrosse, and more at dedicated courts and fields. After playing at the children's splash area or jungle gym, stop by a Red Door station for a variety of snacks and refreshments.
The Club – The Club offers something for every member of your household. Children will adore the Mundo Mavi Kid's Club and thrilling water slide, and families will enjoy the 18-hole putting course. There is also a two-story Nicros rock climbing wall ideal for beginners and experts.
Year-Round Community Events – Maravilla has events scheduled to foster a sense of community between residents. Connect with your neighbors on Santa Maria Beach Day, during a decadent Easter brunch, participate in the Maravilla Mini Olympics, or ring in the New Year together Los Cabos style.
Why You Want Outside Representation from Jeff Schmidt
There are many benefits to working with Cabo-based real estate agent Jeff Schmidt. Since he's not directly affiliated with these high-end developments, he can look outside the box and offer honest insights.
Realtors who work for these developments are working on behalf of the developer; as a result, they may be more inclined to close deals at prices set by the developer instead of market prices. As an outside agent, Jeff provides a different perspective and will give you real numbers and unskewed facts. He can compare similar properties at multiple developments, which is something that development agents typically don't do. Weighing the costs, advantages, and your needs as a property owner, Jeff will help you make the choice that's right for you.
Since these communities are so exclusive, their properties are rarely listed on the MLS. Jeff has given clients tours through these high-end developments. He can answer your questions and concerns, and can also get you access to these exclusive properties so you can experience them for yourself.
(408) 607-8349 (U.S.)
(624) 165-9553 (Mex)
jeff@cabobeachrealty.com